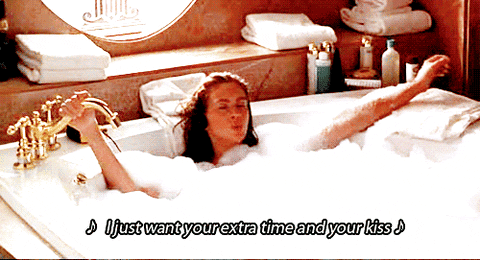 The small victories of a frequent traveler – bathtubs.
It started last year… The company installed these Tranquility soaking tubs for two at most of the resorts. I talk about it in every. Conversation. I. Have. My agents have no idea what it means, so I share a goofy picture of Cackalacky in one in Barbados. (he's fully clothed, get your mind out of the gutter).
Then they get it. The total relaxation that a soak in a tub brings. We've gotten so fast-paced that we all "jump in the shower real quick". It's about convenience & efficiency. Sometimes we just need to SLOW. DOWN.
Thats tough for me to do. I am most comfortable when going "Mach 2 with my hair on fire".
Can always count on Top Gun for a solid reference. 😉
Anyway, I had the worst drive of my territory out to Shreveport, LA 2 weeks ago for some sales calls & a Caribbean Night. Nothing exciting to write home about there, what really impressed me was this quaint little botique hotel in Alexandria my agents suggested.
This is the Parc England Botique Hotel, it's basically right next to the airport and used to be officers quarters way back when it was an army base. There's also an old timey restaurant right next to it that was the officers club.
Yes, I ordered myself a steak, medium rare, and a glass of wine. The chairs also kind of reminded me of Nana's old kitchen table set in Lancaster, PA. Except now my feet actually reach the floor so I don't roll away from the table and become stuck.
Then it was time to check out the massive tub in the room.
No jacuzzi jets, but who cares. A relaxing little soak in a little too hot of water didn't let me last long here. Maybe thats why they tell you to be careful in hot tubs… I did get a little bit of relaxation, but was off early the next morning for a 3 hour drive to Lake Charles.
Great meetings out there and after asking my agents again where I should stay, they pointed me to the Golden Nugget Casino Resort. hmmmm I hope work reimburses that 😉
It was a beautiful day and I was beat. I reserved just the basic room, but as casino's usually do, I was upgraded to a Junior King Suite.  🙂 I may have been by myself walking into this room but that did not stop me from voicing "oh hell yeah, this shit is NICE". Apparently this hotel is only about a year old.
All I needed to do was look out from my balcony to know I was definitely done working for the day.
Yup. Done. I had found my spot for the evening… right there, at the swim up pool bar. Wait… I didn't pack a suit. Dangit, guess I'm buying a new one! I'll need it on resort anyway right? (I spent way too much on it, but it's cute as hell).
I of course started chatting with the bar supervisor and bartender since I was the single girl at the bar. Once they found out I lived in New Orleans, that became my nickname. Two drinks and a sunset later, I realized I was waterlogged enough and needed to find food.
Thank goodness I didn't have to leave the premises to find choices. It was ALMOST like being on island…. except you do have to pay the check before you walk out of the restaurant. That's probably the only downside to a casnio. That and they're still smoker friendly on the game floor.
My new supervisor/manager friend pointed me towards Italian since I told him I'd eaten a ton of fast food & a steak all week.
I get on these kicks… I'm not a tomato person, but layer it between some mozzerella cheese, basil and some balsalmic vinaigrette and I'll eat the whole plate.
And then eat the entire bread basket and an entree….
and ooh look! a baby biscotti!
And then yes, go across the hallway to the Chocolate Box for some fudge & raspberry truffles…. Those'll taste awesome in this soaking tub for the evening.
And boy was it. Some music pumping from the iPod & truffles makes for a happy Missy.
I didn't want to leave the next morning. I figured my next two calls were closed agencies (no longer in business) so I seriously considered staying in bed and then going back down to the pool. But because I am a work-a-holic, I just checked out and started my day.
Another 3 hour drive to Nola gave me a Saturday at home and then a 4 hour drive to Monroe, LA on Sunday which also turned out to be during my second bout of strept throat in a month. Another steroid shot to the butt and antibiotics put me in bed at 6pm Sunday night – not to wake up Monday till half an hour before my conference call. 3 Days in Monroe and 2 Days in Lafayette means I get a full weekend back at home in leggings and no bra.
It's a good weekend.