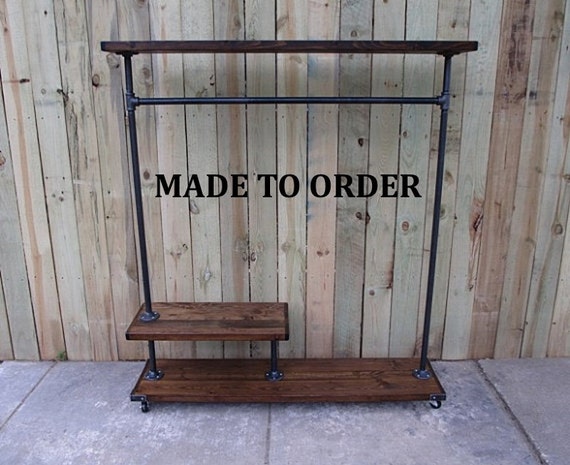 I'm at it again…
Well the inevitable happened. My garment rack has finally met its end Thursday.
Granted, I did probably buy it 3-4 years ago. It did it's job. But now that it's leaning pretty much all the way against my dresser to stay standing, it was time to find a new one.
I'd been browsing different sites like Bed Bath & Beyond, Walmart, Target, Ikea and Etsy to check pricing on garment racks, armoires… etc. Thinking "well, its probably time I put the money into some real adult furniture that will last from place to place" so I was ready to spend about $300. yikes.
When did that become the new $20? It's like just yesterday mom and dad were handing me 20 bucks after a football game to go to dinner. Now every time I go out, I barely make it home for under $100.
Anyway…. I found this beautiful rack on Etsy but the shipping time was 4-6 weeks. Ain't nobody got time to wait that long.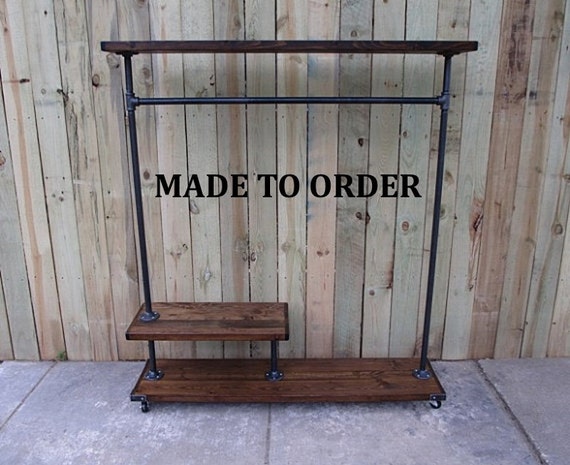 So I jumped on to trusty Pinterest and along came this post. I got lots of weigh-ins from friends & family about "how much should this cost? what should I be looking to spend?" and then "what if I make it myself…?"
So I dusted off my old shop class skills, pulled out my homemade toolbox from 8th grade and went to Home Depot with list in hand after my Friday meetings.
 2x12x8 piece of wood cut to 67 inches ($10.16)
3 – 3/4 inch  5 ft. black pipe from the plumbing section ($13.94 ea. = $41.82)
2 – 3/4 inch 90 degree elbows ($2.07 ea. = $4.14)
2 – 3/4 inch threaded floor flanges ($4.47 ea. = $8.94)
box of 1.5 inch screws ($5.58)
4 wheels ($2.98 ea = $11.92)
black spraypaint for pipes in Metalic Galaxy ($5.76)
Wood Stain in Dark Walnut ($4.78)
Stain paintbrush ($7.97)
Poly sealant & foam brush I already had at home thanks to mom not using it on my dresser 🙂
So I sat FOR-EV-ER waiting for someone to come cut the piece of wood I'd picked out for the base. It was surprisingly cheaper than I thought it would be. But of course there are 3 people who could do the cutting, one left early ("like a not very nice person" – according to the kid that was pulled from teaching training to"help" me), and the other was off because it wasn't supposed to be a heavy day.
This kid talked too much.
Just do your job efficiently and we'll be good kid. Of course, when he comes up to help me he tries to tell me "this is an extremely heavy piece of lumber" yeah. ok kid, I've already picked it up in one hand, but just because I'm a woman in a maxi dress in Home Depot I must be weak. Cut the f*king piece of wood and stop mansplaining to me. First he picks up the wrong width and doesn't believe me when I tell him it's the wrong size…. then has to run all over the store for tape measurers and pencils. waiting. waiting. waiting.
Finally he comes back, cuts my wood and I'm pushing a giant cart through tiny aisles in plumbing for flanges… what the hell are flanges? Phalanges I know, flanges…. not so much.
I check out for $111.18. BOOM. It's funny walking through Home Depot as a woman… lots of funny looks, and one nice man in front of me checking out asking if I need help with all my stuff. I guess it is weird to see a woman with a big slab of wood there, but I say more power to us. I don't want to pay that much? I'll make it my damn self.
I got everything into my apartment, spray painted the pipes, elbows & …..flanges…. damn, these are the wrong size. I'll exchange them later. Sand the wood, put the wheels on the bottom (one of my drill bits broke off in one of the holes 😦 ) and put the first stain on…not dark enough… wait 8 hours.
Ok, I'll take myself to the new brewery a block from home to try their new summer release beer 🙂 rough life.
Saturday was tubing day with the group. I put another coat of stain on the giant skateboard and let it dry for another 8 hours. Also put the pipes together.
I expected tubing to be about 10 of us like last year… oh no. Last minute plans meant 30 people showed up. TOO MANY.
Two of the girls and I jumped in one car to head out, even stopped for lunch! And still made it an hour before the rest of the group. We got our stamps and waited back in the car's air conditioning for an hour. Finally the rest showed up, we loaded the bus with coolers in tow and were headed to the starting point. No tubes… great. Another half hour and by 2:30pm we were floating. With no wind and a slw moving river, the float took us 5.5 hours. We only stopped twice! But I will say, Nana's snack mix and pretzel pieces were a HUGE hit.
I made a beeline for the camping section of Walmart on Friday for a little cooler. Came out with a BACKPACK cooler!! WIN!! Loaded it up with cans, yes CANS of blue moon, a Diet Dr. Pepper, water bottle and 4 sandwiches (3 pb&j and 1 turkey/cheese incase anybody was allergic to peanut butter, because I have definitely turned into my mother….)
I love floating down the river. It's so relaxing. Yeah you might bump into some logs & brush every now and then, but that's why you bring guys in the group, they're the muscle to pull you out.
Back home for a shower & bed and up Sunday morning to start the coats of Poly to make the wood shine. First coat on and off to Home Depot to exchange the flanges… (plus a stop at World Market and Barnes & Noble) then back home to spray paint those & put the second coat of poly on. (less femininely dressed…?)
As I waited 2 hours for the second coat to dry I tuned in to the pre-aired Shark Week specials until the new stuff starts at 7pm (central).
Now that the flanges are dry, measure and mark their screw points on the wood (with white-out pen so it showed up) and drilling the holes for pipes.
Screwing the 5 ft. pipes into the wood however was a bit of a feat…. Had to take them apart again to make sure one side didn't fall over into my TV (I moved it shortly after a scare) or  pull out the screws of the other side… yikes. Finally got it, and reattached the middle bar and TAAAAADAAAAAAA!
DIY Garment Rack 🙂
After 🙂
Applause accepted. *bow*